The top 7 souvenirs to buy in Vietnam, whether you are on holidays or on a business trip.
Apart from the joy of discovering a new culture, taking photos and tasting the exotic flavors of Vietnam, shopping might bring you more opportunities to get in touch with local habits.
A shopping tour is usually the last step of a trip and it is always a bit tricky. The second "HCMC 100 exciting things", a campaign promoting activities in the city, announced some time ago the top 7 souvenirs to gift to friends, family members and loved ones. The results came from a poll voted on by travelers and expats.
Hopefully more of these events will be coming to other major cities, such as Hanoi, Hoi An, Hue and others.
---
1. Conical hat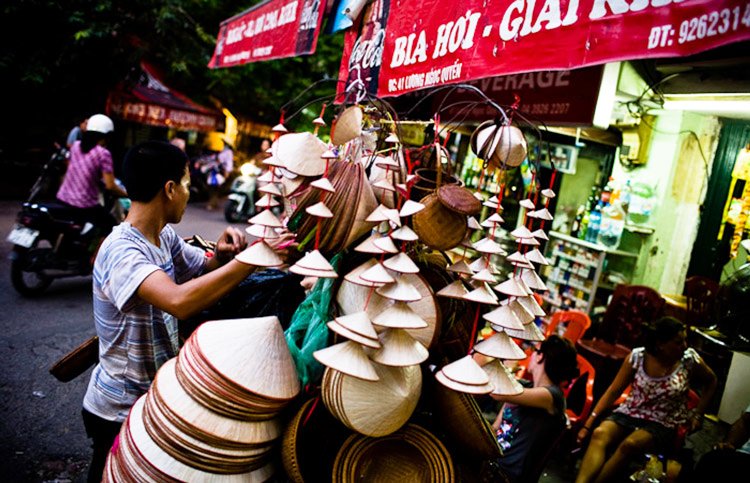 Non la (leaf hat) is a circular cone made of bamboo cataphylls, notable for it's romantic adornments. The non la is more than an indispensable tool for people in Vietnam: it has become a cultural symbol. The style differs by region, so for example those of the Tay people have a distinct color, while in Thanh Hoa they use only a 20-hem frame. Hue's is thin and elegant, while Binh Dinh's is thick.
Vietnamese wear the non la all year. The shape protects the wearer from the downpours of the rainy season like an umbrella, and provides shade and protection from the heat during April and May, when temperatures climb to unbearable levels.
Local Insight: At a workshop, you can get a hat for only VND 3,500 – VND 10,000. Depending on the quality, price at souvenir shops range between VND 30,000 and VND 100,000.
---
2. Ao Dai
Since the 18th century, the ao dai has been Vietnam's national costume. There are three main styles of ao dai nowadays.
"Trendy" ao dai reach to the floor and fit the curves of the body by using darts and a nipped-in waist; the "hippy" ao dai is brightly colored and very popular among young teenagers; and the "mini" ao dai have slits extended above the waist and the panels reach only to the knees.
The usual way to acquire an ao dai would be to pick the fabric first. Usually there are two different colors, one for the long dress itself and a second contrasting color for the trousers worn underneath. After the fabric is chosen, you bring it to a tailor specialized in creating ao dais. Usually it takes around one week until you can pick up the finished product, but please keep in mind that during the preparation for Tet (lunar new year), it can take significantly longer.
Local Insight: An ao dai costs at least VND 700,000. If you can spend the time and have experience finding decent cloth and a good tailor for ao dai, you might have your stylish ao dai at a reasonable VND 1,500,000.
---
3. Silk
Silk is woven from the cocoons of the silkworm. Thus, it has always been considered extremely luxurious and only available to the nobility. The days when silk had only been manufactured for Vietnamese royalty is long gone, and the fabric has become widely used throughout the country. Silk and its beautiful products are affordable nowadays, so tourists have a chance to choose their favorites and gift them to friends and family.
Local Insight: The price for regular Vietnamese silk is at least VND 70,000/m and over VND 100,000/m for premium kinds. Silk below that price is originating from China and of questionable quality.
---
4. Hand Embroidery
The art of hand-embroidered pieces of clothing and framed silk pictures is an old handicraft tradition in Vietnam. You will mostly encounter picturesque natural scenes like flowers, trees, animals and birds, patiently stitched one colorful thread at a time. But also daily life scenes, even portraits can be created with this ancient technique. Tourists are frequently baffled by the vast variety of designs, offered in hand embroidery shops, the vibrant colors and the intriguing depth of the artwork.
In some shops, tourists can explain or sketch their individual idea to the artist, who creates a personalized present for friends and family.
If you visit Da Lat, there is a workshop & gallery for marvelous and artful hand embroidery images upstairs in the central market.
Local Insight: You can buy a small hand embroidered product for around VND 500,000. For bigger pictures, the price can be VND 2,000,000 and above.
---
5. Sand Pictures
Sand painting is the art of pouring colorful sand and powdered pigments on a sticky surface and fixating it later with spray, so it doesn't come off again. However, there is a second art form called sand painting, which is practiced in Saigon: The artist pours the colorful sand between two glass panes or in a specially designed mug or vase. The layers of sand form an enthralling piece of art, that looks stunning on every shelf and makes an excellent souvenir. Vietnamese sand picture art comprise 4 categories: landscape, portrait, labor scenes and the traditional art of calligraphy.
Local Insight: The price for artful sand pictures ranges from VND 300,000 to VND 700,000.
---
6. Wooden clogs – Guoc moc
Wooden clogs (guoc moc) were a sort of traditional footwear for men and women alike in the past. After the feudal period, they mostly remained in a trio of Non la, Ao dai and Guoc moc to increase the gracefulness of Vietnamese ladies when attending important festivals or any special events in town. Guoc moc are rarely used nowadays, but tourists can catch a glimpse of them at traditional activities like the Cai Luong and Ca Tru performance.
Local Insight: Being considered as quite old fashioned footwear, the real Vietnamese wooden clogs are hard to find. If you can find some around VND 150,000 then go for it.
---
7. Musical Instruments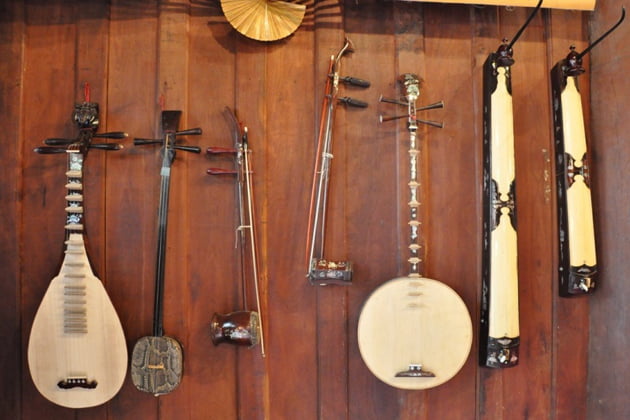 A handmade musical instrument can also make a nice keepsake. Bamboo flutes and mini t'rungs are very popular among visitors. Since the flute is just a small bamboo pipe and the t'rung can be easily disassembled for transport, they are convenient to carry home and don't use up too much space in your already stuffed luggage.
The sweet tone of these instruments will thrill your ears and remind you of the most memorable moments from your trip to Vietnam.
If you are in Saigon, there is a nice old man, playing and selling simple flutes in Le Loi street at the sidewalk. If you are interested in hearing more traditional flute play, there is a student club of young flutists, who meet in the evening hours at 23/9 Park near Ben Thanh Market to play and practice. Nguyễn Thiện Thuật street in District 1 is also known as "guitar street". There are many shops and workshops for instruments, mainly guitars and their relatives – like the ukulele.
Local Insight: Prices for a t'rung range from VND 300,000 to VND 1,000,000. Simple bamboo flutes come at around VND 10,000.
You should expect to bargain for the items you want to take home as souvenirs. One "trick", that can be applied in Ben Thanh Market is to browse the fixed-price shops outside and negotiate with the inside shops for the items you want to buy. We also have a blog post on bargaining at the market which shows you some tips to bargain and suggest some of the best places for shopping apart of the Top 5 Places to Go Shopping in Saigon.
Source: ehgnews.com