Featuring a new route throughout Halong Bay – Lan Ha Bay, Nostalgia Cruise offers the perfect blend of old Nguyen Dynasty palace style and magnificent natural beauty. A 2-Night, 3-Day cruise, which covers Halong and Lan Ha Bay is the perfect choice for a full experience of this traditional culture and this ancient, mysterious landscape. Going back to the history of the Nguyen Dynasty and unspoiled destinations, the journey to Ha Long and Lan Ha Bay promises to leave visitors with a memorable experience.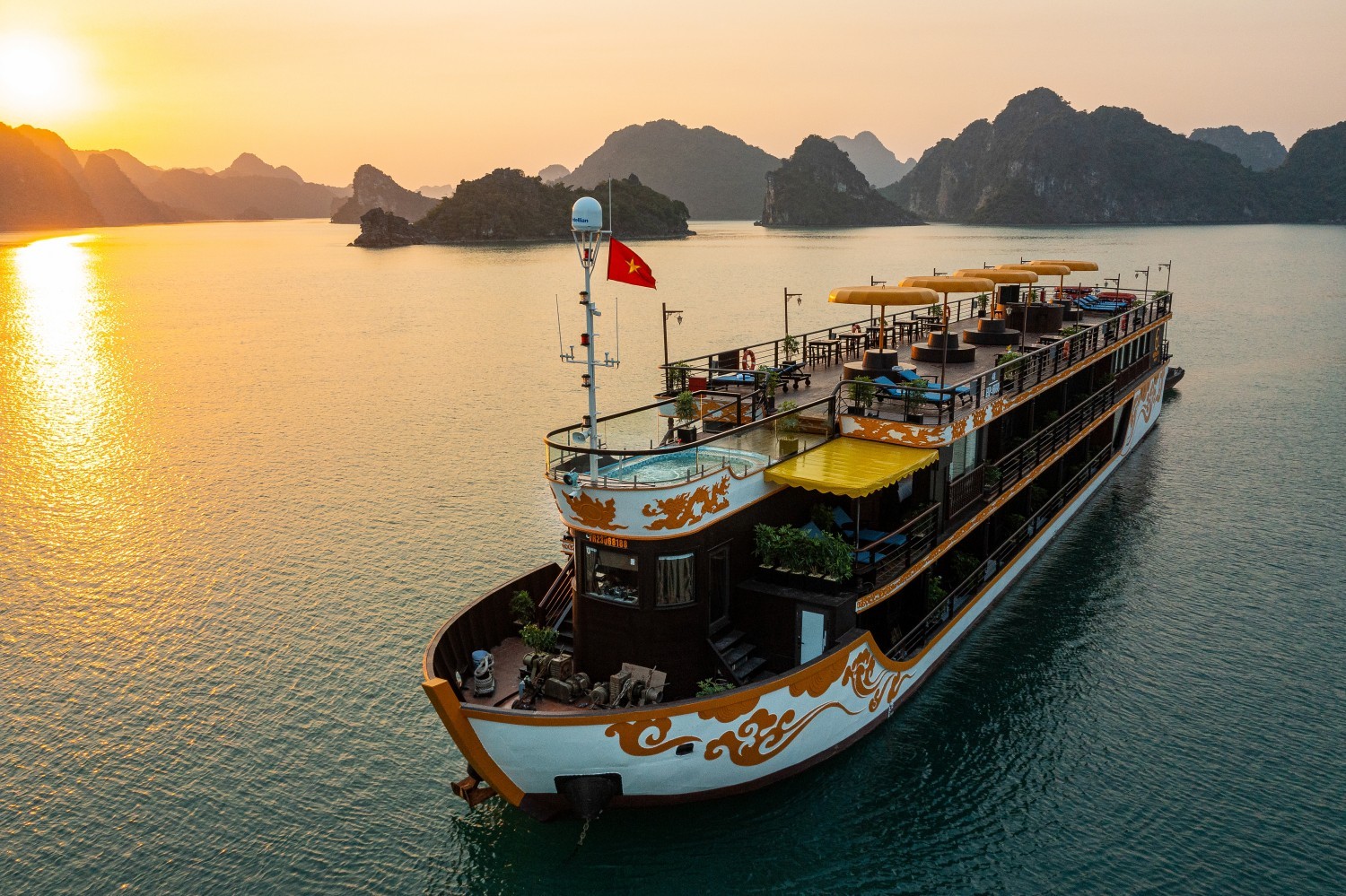 OVERVIEW
Scheduled to launch December 2022, Nostalgia offers 11 luxury cabins with an elite, professional crew that will provide you the best services during your trip in Ha Long Bay – Lan Ha Bay.
Seeking serenity, peace and purity in our King – Queen – Prince & Princess suite, our customers can witness and experience the hidden poetic beauty of the world and a UNESCO World Heritage.
HIGHLIGHTS
The unique Boutique Cruise 5* with only 11 suites on board.
The unique route, a sailing pioneer to discover.
Halong Bay – Bai Tu Long – Lan Ha Bay.
Only 02 hours from Hanoi center to Nostalgia instead of 04 hours as other cruises.
Elegant Nostalgia with serenity, peace and purity in our King– Queen Prince & Princess Suites.
WHY CHOOSING NOSTALGIA CRUISES
Visiting Halong Bay, especially Lan Ha Bay. Lan Ha Bay is one of the most stunning bays in Vietnam which has many amazing and uncontaminated beaches yet less touristy that you can enjoy the awesome jade green water and many great photo opportunities.
Experience fishing with genially locals and come out with amazing livelihood stories. One of the first 5-star cruises ever that has the best itinerary: Halong Bay – Lan Ha Bay.
Luxurious and well-furnished cabins, all have private balcony from which you can savor yourself in the beauty of Halong Bay – Lan Ha Bay.