Bars have become one of the most popular form of entertainment in the world, yet many people are still confused about the differences among bar types that create each of them unique features attracting variety of patrons.
History of The Bar
In the colonial era of the United States, people found it necessary to have a public meeting space where they can meet and talk, as most of other institutions were weak. Thus, the concept of "tavern" was born. People came here can meet and chat with others while drinking. During the 19th century, the tavern was gradually changed to saloon. Although tavern and saloon were originated with the same using purpose, there were still some differences between them due to the social and economic development over time. The architecture and decoration of the saloon were more sophisticated and looked brighter than its former. From that period, the saloon started to be popular among working class where they often came to in leisure time. Today, the term "tavern" or "saloon" is no longer used. Instead, any area of the establishment where the bartender pours or mixes beverages is now called "the bar". The term "bar" is derived from the specialized counter on which drinks are served. Patrons may sit or stand at the bar and be served by the bartender. Depending on the size of a bar and its approach, alcohol may be served at the bar by bartenders, at tables by servers, or by a combination of the two. The "back bar" is a set of shelves of glasses and bottles behind that counter.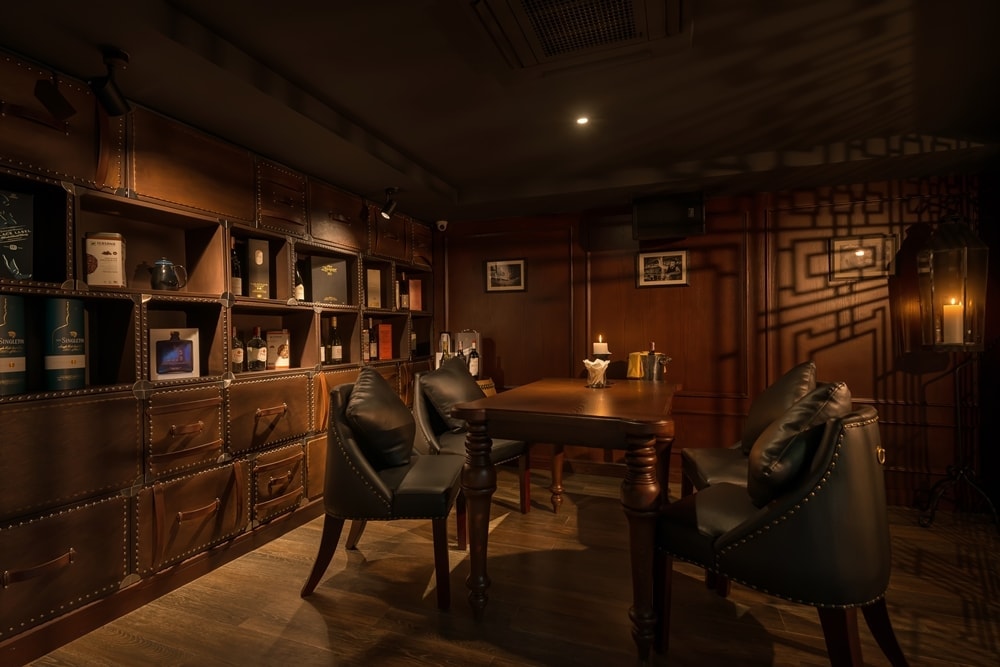 "Saloon" in 19th century – the former of bar. 
Types of bars
Notwithstanding bar types are customized in each country, there are some common kinds of bar all over the world:
A cocktail lounge is an upscale bar that is typically located within a hotel, restaurant, or airport.
A full bar serves liquor, cocktails, wine, and beer.
A wine bar is an elegant bar that focuses on wine rather than on beer or liquor. Patrons of these bars may taste wines before deciding to buy them. Some wine bars also serve small plates of food or other snacks.
A beer bar focuses on beer, particularly craft beer, rather than on wine or liquor. A brew pub has an on-site brewery and serves craft beers.
A music bar is a bar that presents live music as an attraction.
A dive bar, often referred to simply as a "dive", is a very informal bar which may be considered by some to be disreputable.
A non-alcoholic bar is a bar that does not serve alcoholic beverages.
A bar and grill is also a restaurant
A bar's owners often choose the bar's name, décor, drink menu, lighting, and other elements which they think will attract a certain kind of patron. However, they have only limited influence over who patronizes their establishment. Thus, a bar originally intended for one demographic profile can become popular with another. For example, a gay bar with a dance or disco floor might, over time, attract an increasingly heterosexual clientele. Or a blues bar may become a biker bar if most its patrons are bikers.
The saturation of bars in Hanoi
Hanoi has become the one of the best destination in the world in terms of both tourism and business environment. The number of either inbound tourists or foreign expatriates coming to the capital city is increasing over years. Owning to the rapid development of tourism and economy, Hanoi has developed itself a vividly portfolio of entertainment forms, in which bars play the significant part. The best bars and pubs in Hanoi are conveniently set within the Old Quarter, gaining massive popularity among the city's tourists and expat community. People can easily walk in a bar while going along any street in this area. Most of them are crowded in weekdays and full in weekends.
The Den Bar – Back to classic
Perhaps people in Hanoi see it very difficult to find a classic bar following the concept of "saloon" as of 19th century, where the leisure time was fulfilled by the relaxing ambience with tender music and exceptionally selected drinks. The Den Bar is the place to be. Hidden away in La Siesta Hotel Trendy on the edge of Hanoi's Old Quarter, The Den Bar lies underground where it takes people a little curiosity to discover. It is either a cool space to chill from the city's summer heat or a warm and cozy zone in the winter when Hanoi's temperatures fall. Styled on a London or New York sophisticated gentleman's club, The Den Bar promise a hip relaxed place for drink and food. Likewise, inspired by the mixology trend, at The Den Bar offers a combination of Asian and European cocktails and mocktails embodying the east and west. People can learn about the importance of mixology as an art form and the stories behind the cocktails from The Den Bar's bartenders and mixologists, who have seriously been trained and achieved the global bartender award.
Tips:
Try the best drinks made by The Den Bar's mixologists: KLAUDIA COCKTAIL, THE ROOSTER, NỘM MOJITO, SAPA COCKTAIL
The Den Bar
Underground Floor
No. 12 Nguyen Quang Bich Street, Hoan Kiem District, Hanoi, Vietnam
Source: ehgnews.com