Once dearly called Diamond of the Far-east with the luxury level overriding that of Hongkong or Bangkok, Ho Chi Minh City is now the most populated city in Vietnam. Modern office skyscrapers, amidst Oriental style pagodas and food stalls along the street, create a dynamic urban area in very special sense. It is not oddly tidy like in Singapore, nor is urban slumps omnipresent like in India.
And here are some tips for you to travel but still like a local people in Ho Chi Minh!
1. Shopping in Binh Tay Market
You're going to hear most about Ben Thanh Market. But local people will know Binh Tay Market to have better prices, and more local experience.
Binh Tay Market caters a bit more to local Vietnamese, and therefore the prices are lower, and overall a little less touristy geared.
If you go in the morning, anytime from about 6 am – 8 am, walk around the back streets of the official indoor market, and you'll find an incredible fresh wet market, teeming with food and fresh Vietnamese ingredients.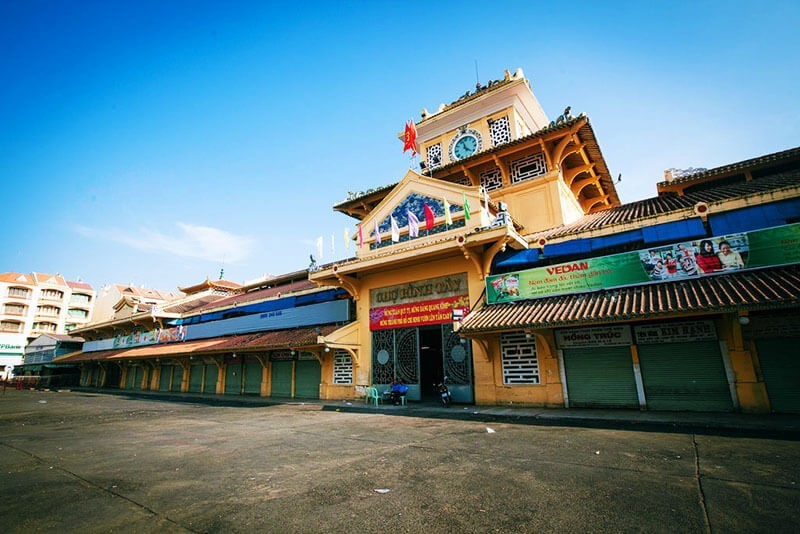 And also, don't miss the small food court, where you can get some delicious, simple, and affordable Vietnamese food.
If you are looking to do some shopping when you're in Ho Chi Minh City, at Binh Tay Market you'll find just about everything made or produced in Vietnam from clothes to snacks. There's a huge section of Vietnamese cooking utensils, nuts, spices, and tools. And of course cheaper than Ben Thanh market!
Address: Bình Tây Market, 57 Tháp Mười, 2, Quận 6, Hồ Chí Minh, Vietnam
Open hours: 6 am – 7 pm daily for the main indoor market section, 5 am – 9 am or so for the outdoor wet market
How to get there: The market is located in District 5, and it's easiest to just jump in a taxi to get there. From Ben Thanh Market it's just about 15 minutes by car.
2.See through history
Independence Palace (Reunification Palace) is a special place which must visit to know more about the history of HCM city and Vietnam.
Now a museum, but still used for official government meetings and events, the Independence Palace was the former home of the president of South Vietnam during the Vietnam War.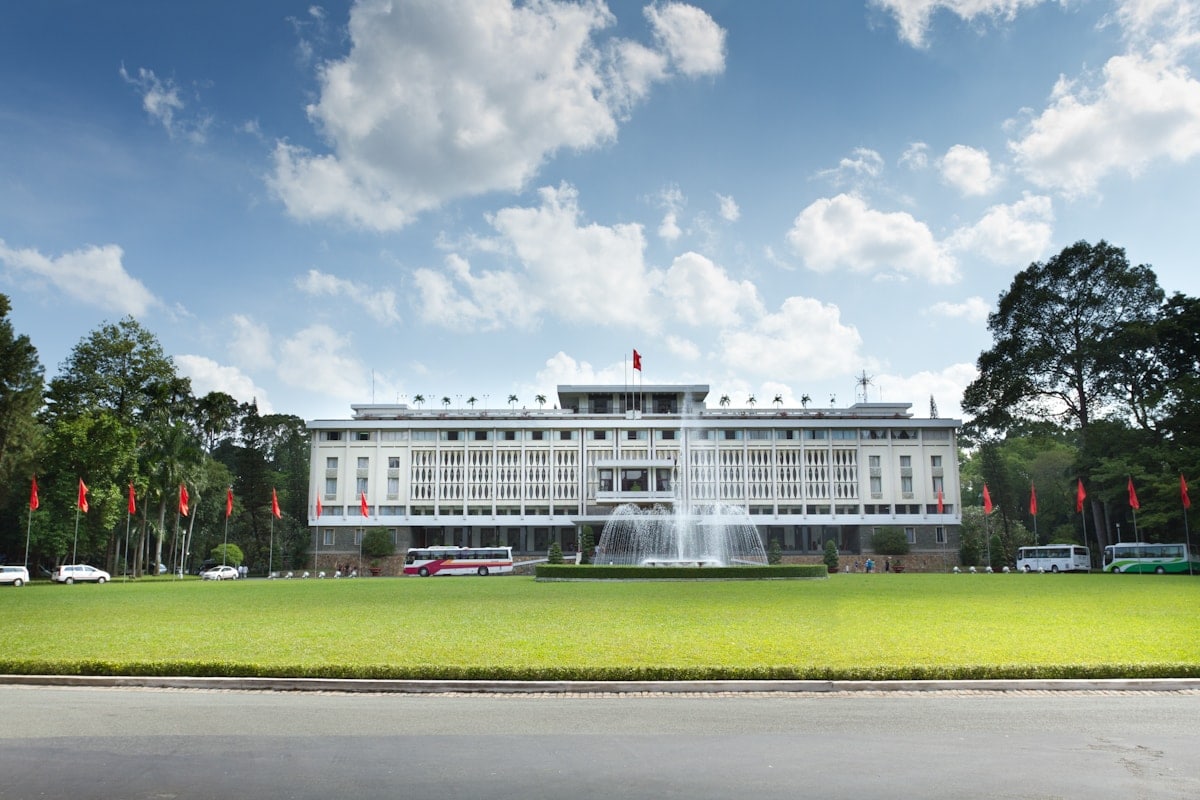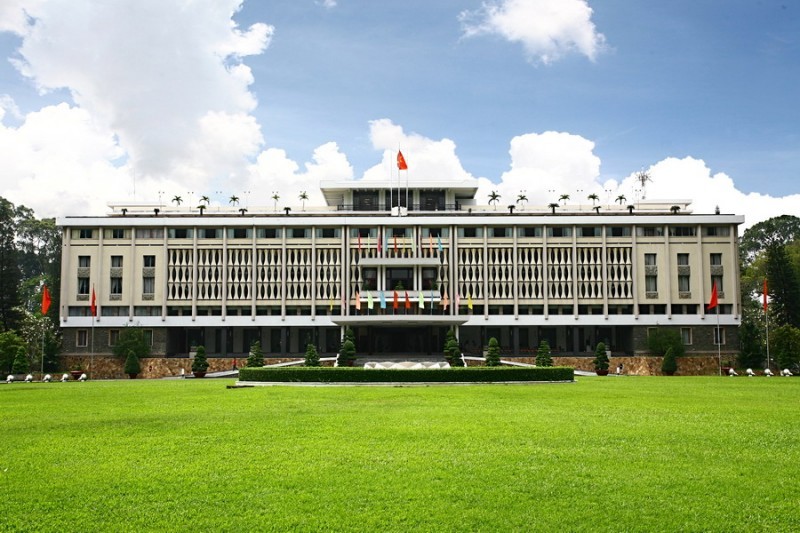 After buying a ticket you can then go inside, and walk around a few of the floors to see all sorts of rooms including meeting rooms, dining rooms, and lounges that are fit for royalty.
Every room and space within the Independence Palace is still furnished with original chairs and tables.
The round dragon carpet, located on the second floor, a huge circular red carpet with a dragon etched into the middle was pretty amazing.
After navigating through a few floors and seeing the helicopter pad, you can then head to the basement where you'll find some slightly scary offices, control rooms, and bunkers.
Visiting the Independence Palace is one of the top things to do in Ho Chi Minh City and it's one of the most visited attractions in the city.
Address: 135 Nam Kỳ Khởi Nghĩa, Bến Thành, Quận 1
Open hours: 7:30 am – 11 am and 1 pm – 4 pm daily. However, occasionally the Palace can be completely closed when there's a large official event taking place. So make sure it's open the day you plan to go.
Entrance price: 30,000 VND per person
How to get there: From Ben Thanh Market, you can walk there in about 10 minutes, it's located right in the heart of Saigon in District 1.
3. Praying at Saigon Cathedral of Notre Dame
Welcome to Paris?
Probably not quite as grand as the Notre Dame de Paris, but nevertheless an important cathedral and landmark in Ho Chi Minh City, the Notre Dame Cathedral marks the center of the French colonial heritage in Saigon.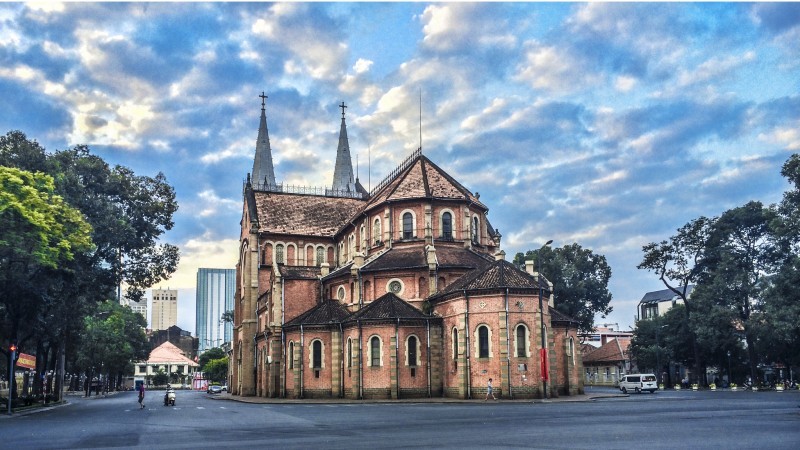 Make sure you go to the very front on the road-side, so you can get a great photo of Virgin Mary with the cathedral in the background. Inside the cathedral you'll see beautiful stained glass windows, the wooden pews, and classic plaid floor tiles.
Address: Bến Nghé, Hồ Chí Minh, Vietnam
Open hours: 8 am – 11 am in the morning and 3 pm – 6 pm in the evening on weekdays only (on Sunday, there's an official mass that begins at 9:30 am that you are free to attend)
Entrance price: Free
How to get there: From the Independence Palace, walk northeast through the park directly to the cathedral. It's located on the northwestern side of Dong Khoi street, adjacent to the old post office.
4. Meet your friend at Turtle Lake
If you're looking for one of the top local things to do in Saigon at night, you have got to head over the Turtle Lake after the sun goes down.
Located right within central Saigon, this is home to dozens of street food snack vendors that set up shop, and make snacks for the hundreds of young Vietnamese, both groups of friends and families, that come to hang out and socialize.
At Turtle Lake, within the roundabout is an old school park, with a central sculpture that looks like a dead tree in the middle surrounded by a maze of water and fountains, and an awkwardly placed flight of stairs.
When the night falls, local people flock to Turtle Lake to hang out and mingle with friends, eat snacks, and enjoy life.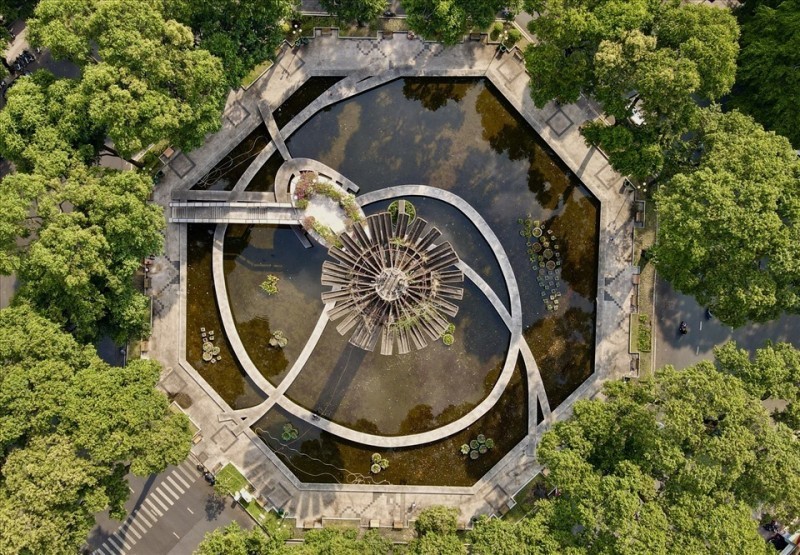 There are two main snacks that everyone who goes to hang out eats and you shouldn't miss either:
Banh trang tron – Banh trang are Vietnamese rice paper sheets (the same ones used for summer rolls), and "banh trang tron" is a snack salad made with strips of dry rice paper mixed with hot sauce, slivers of green mango, quail eggs, strips of dried squid, and all kinds of random goodies. It's the latest and most popular craze snack in Vietnam.
Banh trang nuong – Also known as Vietnamese pizza, banh trang nuong is also made with rice paper, which is grilled like a pizza crust over charcoal, topped with a quail egg, chili sauce, dry pork, green onions, among other things. Somebody thought it was more like a Vietnamese taco, then a pizza.
For a cultural evening experience, visit this place from about 8 pm – 10 pm.
How to get there: Turtle Lake is located northwest of the Cathedral of Notre Dame, at the cross roads of Vo Van Tan and Pham Ngoc Thach.
5. Stop for coffee
Vietnam is the biggest coffee exporter in the world. Vietnamese coffee is excellent – and it's inexpensive and available nearly everywhere. Black coffee with ice (ca phe da) is strong and sweet with an almost chocolate-like richness. Condensed milk also can be added, giving you milk-coffee with ice, or ca phe sua da.
Stop by a small coffee shop at a street corner, drink truly Vietnamese coffee and see the world go by, will be one of the most special experiences you have in Vietnam.