For those who know Hoi An well, it is no surprise that the town has recently been voted number 13 in the Tripadvisor 2017 Travelers' Choice top 25 destinations of the world, and the number 1 destination in Vietnam. And ask anyone what their lasting image of Hoi An is, most likely they will say the lanterns.
Lantern creation is Hoi An's traditional handicraft and one of the town's most famous trademarks. In olden days, people hung oil lamps in interesting shaped lantern shades in the Chinese style. In the 16th and 17th centuries Japanese merchants in commercial areas of Hoi An (called Faifo at the time), would hang their own particular shaped lanterns in front of their buildings. The local townsfolk followed this lead stringing up lanterns on poles hoping to attract luck and prosperity.
Fast forward to the end of the 1990s when in 1998 Hoi An's authorities inspired a night of lantern festivities on the 14th day of the lunar calendar. Fast forward once again to the present time. The centuries-old tradition of decorating the town with lanterns is stronger now than ever. And there is no better way to admire the dark night sky lit up in a myriad of warm shining colors than every evening at Hoi An's night market.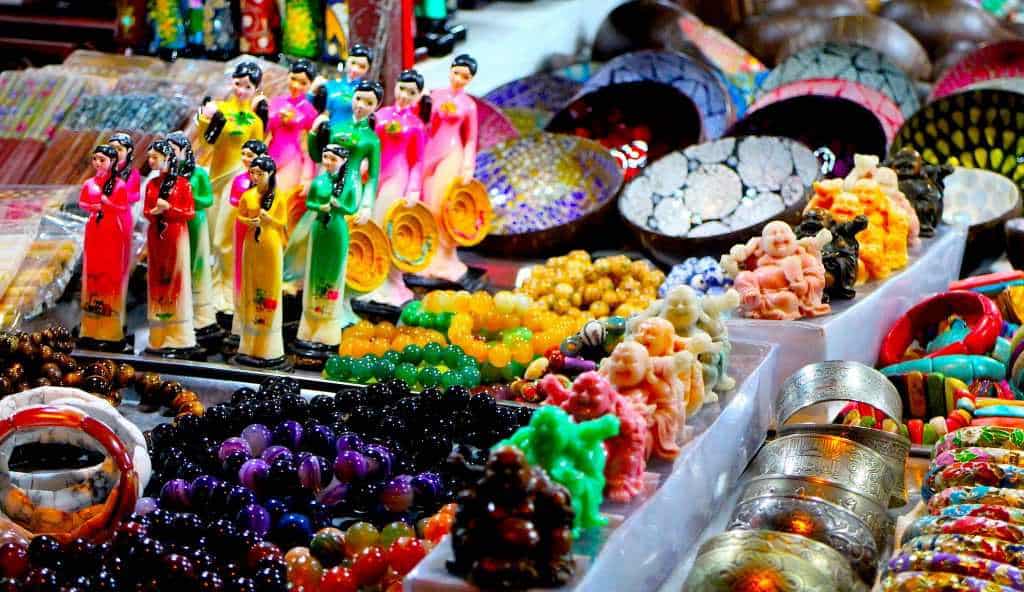 When the Quang Nam province authorities decided to clear up the streets in the old quarter, bring in pedestrian-only zones and replace the old French-era central market with a new structure, street traders and food stalls were, of course, affected. Some food stall holders moved into the new market building while others had to find alternative space and they turned to Hoi An islet. In 2011 the islet, once home to a banana plantation, was transformed. The land was cleared to make space for guesthouses, hotels, riverside restaurants and cafes. And it was here, outside the guarded boundaries of the ancient town, that traders and stall holders from the old part established what is now one of Vietnam's most stunningly famous night markets.
The market runs along Nguyen Hoang Street on Hoi An's islet, linked to the mainland by 3 short bridges over the Thu Bon River. Locals and visitors alike can browse the 50 or so stalls selling a multitude of items from jewelry, arts and handicrafts to textiles, souvenirs and small household wares. Great street food is available too – enjoy Hoi An's iconic dishes such as Mi Quang, Cao Lau, chicken rice, banh my and so forth.
But undoubtedly the market's personality and character is built around the lanterns which beckons visitors over the bridges. Lanterns that light up the night bringing the market to life through the poetry of color.
Hoi An Night Market
Nguyen Hoang Street
open from 16:00 lantern stalls, 21:00/22:00 for other stalls
Open every night
Source: ehgnews.com