The countryside of Vietnam is a delight best explored on two wheels. In Hoi An, you can see the mountains near Danang in the distance on a clear day, hazed with blue. Water buffalo snort contentedly in the rice paddies and pastures, while ducks quack and shake their tail feathers as they cross your path on their way to water.
Many notable sites around Hoi An are accessible by bicycle. From the beaches to rural areas just outside of the old town, it can be an enjoyable way to see the countryside, exercise, and get some sun.
From La Siesta Resort & Spa, tranquil rice paddies are only moments away. After requesting one of the hotel's sleek red Japanese Postman bicycles, complimentary from the reception desk, you can visit many amazing sites.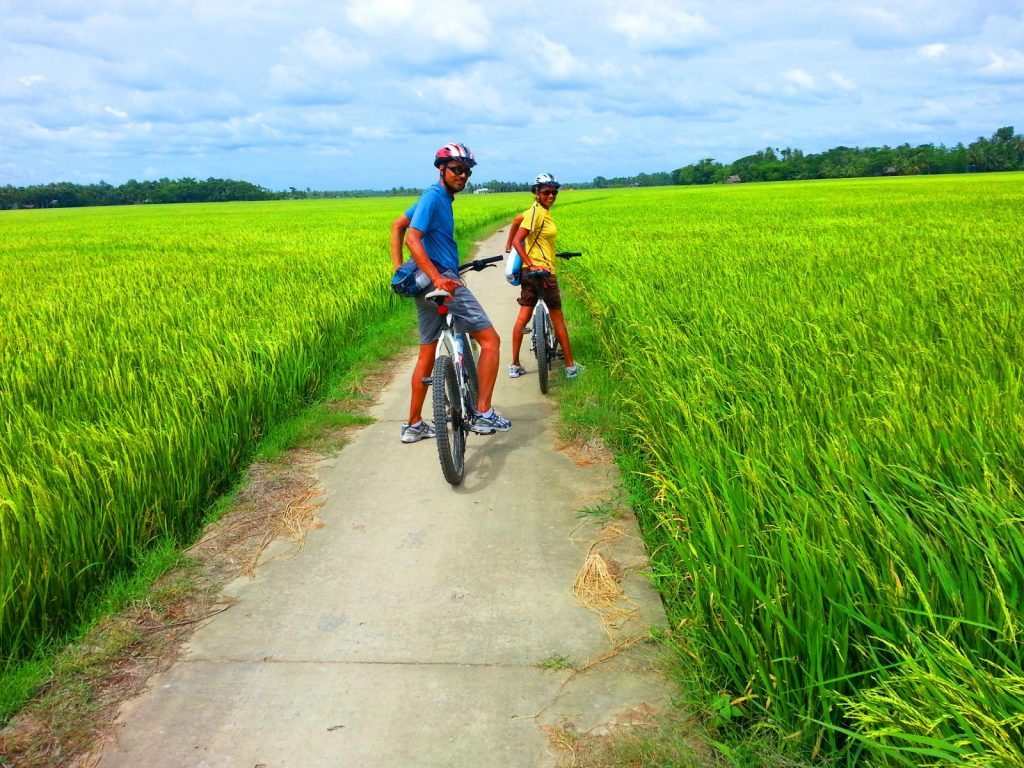 Self-guided tour
Thanh Ha Terra Cotta Park
From La Siesta Resort, turn right and go west on Hung Vuong. Make sure to take caution on the sometimes hectic roads. Turning slightly left and following Duy Tan road next to the river, you can reach the Thanh Ha Terracotta Park. It is famous for its centuries-old tradition of turning out pottery, bricks, and tiles – many of which are featured on buildings in Hoi An. The village of Thanh Ha surrounds a museum and a workshop area. It also houses an exhibition of miniature pottery models of famous buildings, such as the Coliseum and the Sydney Opera House, at 1/10th of the size.
Tra Que Village
Heading east on Hung Vuong, you can turn left onto one of Hoi An's main streets, Hai Ba Trung. This busy road leads to Tra Que Vegetable Village (just over Hai Ba Trung bridge), which features many organic vegetable gardens, and ends at the picture-perfect An Bang Beach. You can cycle along fishing ponds and amongst tidy rows of colourful vegetables, observing workers tending the produce carefully.
An Bang Beach
You can park at the sun-warmed sands of An Bang Beach for 5,000 – 10,000 VND, and pull up a lounger or a towel to soak up the rays on the golden sand before going for a dip in the blue. On the beach, you can see some of the traditional round fishing boats still used today by Vietnamese fisherman. At 5 am and 5 pm, many local Vietnamese families come to the beach for a swim and some food.
Cam Kim Island – Thien Tray Village
If you head east on Hung Vuong and turn right onto 18 Thang 8, crossing An Hoi island and travelling further across the Cau Kim bridge, you will arrive at the impossibly quiet and picturesque Triem Tay village. Small leafy laneways lead to sleepy temples, and breezy bamboo restaurants overlook the river, perfect for a beer and a plate of spicy food.
Silk Village
Heading down the narrow laneway to the right of the hotel and heading north, you can travel to the Hoi An silk village, travelling through the rice paddies. Take your first left on the laneway, and shortly you will come upon the distinctive Chua Long Tuyen Buddhist temple, featuring many-tiered pagodas and a lovely garden with winding paths. At the end of the paddy path, you will come out on Nguyen Tat Thanh road, and see the elegant silk village located across the road.
Visitors can witness the work of a dozen artisans, who manufacture and weave silk into garments and wall hangings using traditional looms. You can also enjoy the mulberry gardens and visit the restaurant and showroom, featuring finished creations.
Guided Tours
Feel like a guided tour with one of our talented English speaking staff? La Siesta Resort & Spa offers morning and afternoon cycling trips to Thanh Ha village, during which customers can learn how to make traditional pottery, eat lunch with a local family, and learn to sail and fish from the round basket boat.
| | | | | |
| --- | --- | --- | --- | --- |
| No. of people | 1 pax | 2 pax | 3-5 pax | 6-10 pax |
| Price/ Person (with lunch) | 1,175,000 | 900,000 | 820,000 | 680,000 |
| | | | | |
| --- | --- | --- | --- | --- |
| No. of people | 1 pax | 2 pax | 3-5 pax | 6-10 pax |
| Price/ Person (without lunch/boat ride) | 950,000 | 630,000 | 510,000 | 420,000 |
Source: ehgnews.com