In 2015 the Goethe Institut in Hanoi invited German street graffiti artist and illustrator, Julian Vogel to Hanoi for the Sound Stuff Festival. While he was in Hanoi he made his creative mark on a 22 storied tower block in an area south of Hoan Kiem Lake, near the Pasteur gardens. Extending the height of the block is a winding monotone-colored dragon, designed as a stunning graphic illustration, complete with gigantic feathers cascading around it.
This is the face of Hanoi Creative City which is the brainchild of Architect Doan Ky Thanh. Back in mid-2013, the site of former abandoned pharmaceutical factories, nostalgically reminiscent of the old communist style, was transformed into Hanoi's first "art district". This was Zone 9. The complex was spontaneously transformed by artists and architects into a cool hip area with fashion, bars, restaurants and a bubbling alternative art scene. Sadly, this initiative, which had become a popular hangout place for young Hanoians, was short lived when a fire during construction work forced the area to close.
However, the Zone 9 vision lived on when Hanoi's largest and newest arts complex opened its doors on 5 September 2015. Doan Ky Thanh, one of the Zone 9 'founders', searched for a suitable area to create a new arts center. Not far from the ill-fated Zone 9, he found the half completed Kim Khí Thăng Long complex originally designed for offices and residential purposes. After negotiating a 10-year lease with the owners, the tower (with about 10,000m2 of space) and surrounding skate park area have been transformed into one of the country's largest creative spaces, with particular emphasis on creatively talented teenagers and young adults.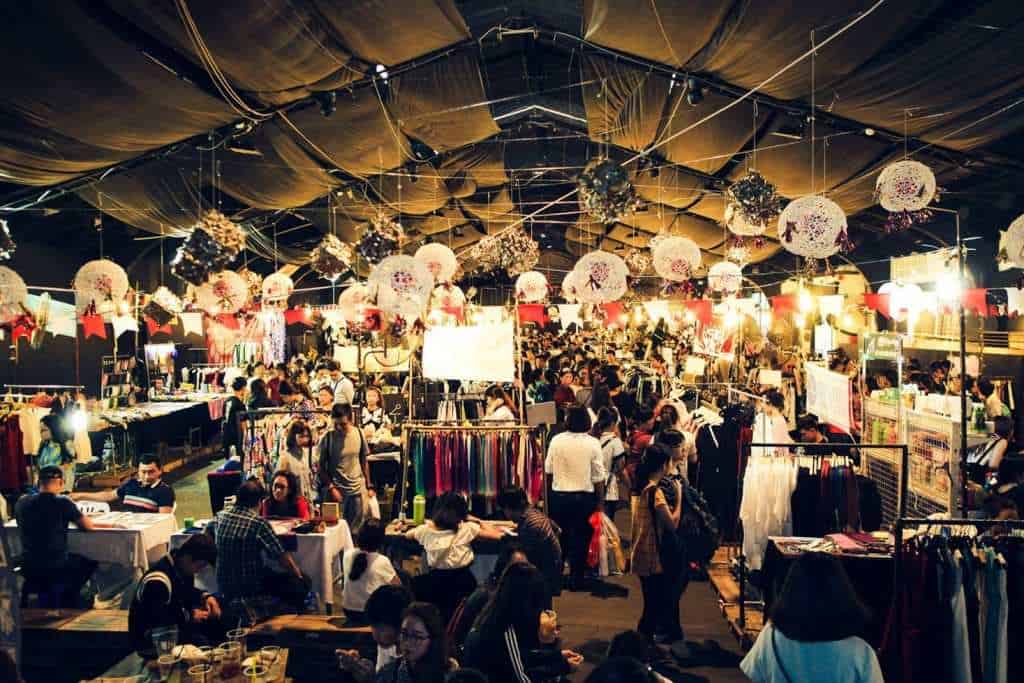 Old containers scattered around the complex and stacked up have been fitted with windows and transformed into trendy cafes, shops and creative spaces. The skate park/open space is used for hosting outdoor events such as live music and street sport activities. A vibrant external bright red 'fire escape' type of staircase leads up to the 6th floor.
On its opening day, known as Creative City Day, nearly 2 years ago, the complex held a series of public events including a flea market, dance performances, freestyle footballing and other sports activities, day long live music concerts together with the opening of some shops, cafes and restaurants.
The initiative supports and promotes the development of creative ideas with a business-minded vision.  "This is my social enterprise. I want to contribute to the community" explains Thanh. His dream has become a success story. Different areas and units are now home to over 40 establishments including craft and boutique shops, café-bars and restaurants, jewelry and fashion designers, publishing, architecture and innovation. Many startups showing real entrepreneurial spirit have a presence. While hip events and exhibitions, training courses and cultural programmes and specialized workshops are regularly on the timetable.
For art lovers, on the 5th floor Tet Art is a leading art fair connecting some of the most influential Vietnamese artists. The 15th floor is home to the Nhà Sàn Studio. This Collective was set up in 1988 by two artists and is Vietnam's longest established non-profit experimental art space which, since its conception, has supported some of the country's most imaginative and avant-garde artists.
For the energetic, Dóo entertainment's high tech recreation area occupies the 6th and 7th floors with a variety of games, sports and activities including rock climbing, indoor golf and kids play area. The 10th floor is home to Swequity Ultimate Fitness gym.
Aspiring adult and child models will be pleased to know BB Academy and Entertainment, a model training center owned famous twin models Thuy Hang and Thuy Hanh have a presence on the 12th floor.
Ingenuity is shown through a store called Lọ Mọ. This start up business was established by Nguyen Quang Hoa who resigned from working in a bank. On sale are recycled objects such as water pipes and glass bottles turned into decorative pieces. Creative Lab by Up recently opened a 'creative playground' for those who want to see their imagination come to life.
In the 1990s and early 2000s Hanoi's creative spaces were supported largely by international cultural organizations such as the British Council, L'Espace, the Goethe Institut and so on. Now, independent initiatives like Hanoi Creative City are surging ahead, spurred on by a generation of young business-minded Vietnamese.  For Thanh and his founding team three objectives are central to their project – to give start-up businesses a chance, inspire creative communities and to support disadvantaged entrepreneurs. Hanoi Creative City is a unique commercial venture turning ideas and possibilities into a reality.
Hanoi Creative City
1 Luong Yen
Hai Ba Trung District, Hanoi
Open daily 08:30-22:00
Source: ehgnews.com